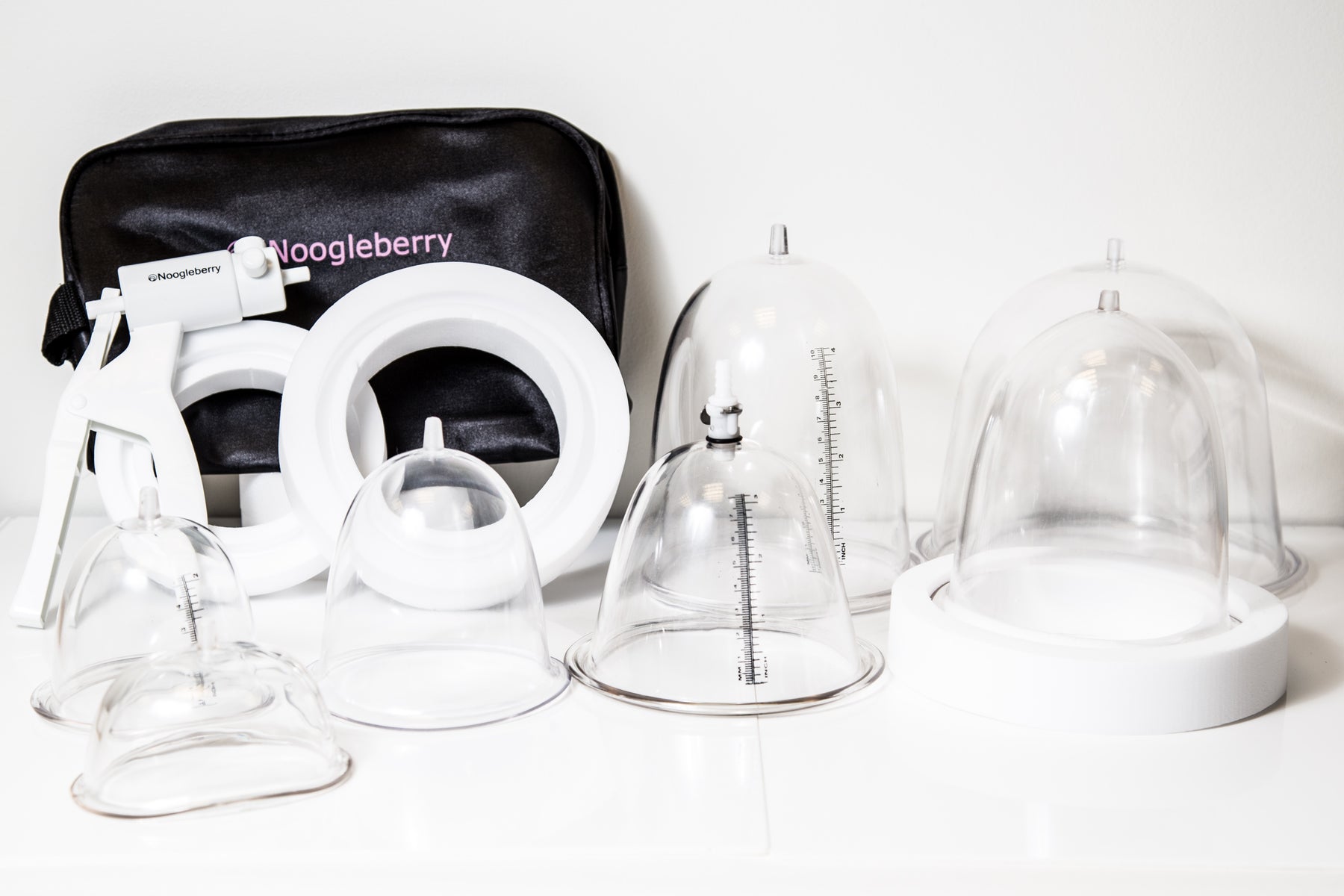 Noogleberry Product Guide
Noogleberry Product Guide
Here at Noogleberry we specialise in an extensive range of Breast enlargement and erection systems and accessories, with an large and varied product catalogue designed to suit both male and female needs. Here we've outlined some of these products, separated for male and female buyers, including a little bit of information about where and when you might use them, and any safety tips.
Female Products
Breast enlargement
Noogleberry have a broad range of breast enlargement pumps for breasts of all shapes and sizes. Our quality design has an excellent track record for success, and is a fraction of the price of a lot of other enlargement devices on the market. Our pumps only need to be used for a short amount of time each day for a few months before results are apparent, and lasting. The design is easy to use and durable, which means that they are a safe and effective means of breast enhancement. There are many breast enlargement products on the market, but a large amount of them are more expensive or worse quality than our stock. Our breast enlargement pumps also make a great alternative to surgery and pills, which can have undesired side effects. All aspects of our devices, as with the male products, can be bought separately or used as replacement parts.
Vaginal and clitoral pumps
Vaginal and clitoral pumps are used to enhance sensation in the vaginal areas. This can lead to heightened sensations during sexual activity, and can help women struggling to reach orgasm. Our clitoris, vaginal and labia systems are all fully compatible with our other existing pumps, and are safe and easy to use. Vaginal pumps are a good choice for people looking to increase sensation and increase pleasure, or improve their overall experience in the bedroom. When using the pump, make sure to stop if experiencing any discomfort or pain, and do not over-pump the area. It is recommended to use lubricant with the device, as it can cause dryness. Noogleberry stock a range of creams and oils which can be used in conjunction with the pump in order to increase comfort during use.
Lip pump
Lip pumps are used to make lips look fuller and increase their natural appearance. Our lip pumps work by creating a vacuum in order to draw fluid into the lips from the surrounding lip and mouth area, which will cause lips to appear fuller. Our lip pumps can be used in conjunction with our other existing pumps, and are a safe and effect way of enhancing lips. The effects of using the pump can be considerable, but results are gradual and need time for the tissue in the lips to build up. Overuse or over pumping the area can lead to bruising, so care is needed in order to build up the appearance of the lips over time. For increased comfort during operation it is recommended to use a small amount of lubrication or vaseline in the mouth piece.
Nipple Enlargement Pumps
Like any tissue in the body, when it is exercised and blood flow is encouraged, it will enlarge. Our Nipple vacuum system uses the same principle on the nipples and can also be used to arouse the nipple area and also to help correct inverted nipples. Our Nipple Cups are designed to enlarge the areola region and the nipple depending on the size of the nipple. Our nipple enlargement system is fully compatible with our breast enlargement system and range of cups. So you may also be interested in purchasing breast enlargement cups to compliment your system and increase the firmness and size of your breasts. Please see our breast system spares section for details of sizes and prices.
Buttock Enhancer pumps
Buttock Enhancer pumps are used to increase the size and appearance of the butt. It is fast acting and results can be seen almost immediately after using this Noogleberry pump. The device can be used daily, or multiple times a day if required, and has virtually no side effects. For those looking to improve the appearance of their buttocks our pumps are a great choice. Long term use has no adverse effects and the pump itself is fully compatible with the other pump devices that Noogleberry offer. Though buttocks may tingle after or during the first few uses, this is nothing to be worried about. The tingle and any redness is due to the tissue in the area being redistributed and reconditioned. After a few sessions, buttocks should be firmer and lifted, and should also show signs of reduced cellulite, as the muscle becomes more used to the pump. Whatever you're looking for, Noogleberry can help. If you require more information visit our specific product pages, or contact us for advice from our specialist members of staff.
Male products
Penis pumps
Our range of penis pumps and extenders are used to help treat impotency, as well as a number of other penile problems, including 'peyronies' (the curvature of the penis). It is also popular for use in increasing the penis in size and girth due to it's efficacy, at 95%, and due to it being a drug free, lower cost alternative to other medical treatments. The Noogleberry penis vacuum system is safe and easy to use, and comes in both battery powered and manual forms. They can be used to create a long lasting erection in a matter of minutes, and can be used frequently. It is very safe to use and causes virtually no side effects. 40% of users say they are able to have intercourse again without the use of the pump. Our penis extender is suited to men who are looking to extend the size of their penis on a permanent basis, or reduce penis curvature. It is again very safe, and is recommended as a type 1 medical device, meaning that it excludes any side effect, both short and long term. All aspects of our devices, including pumps, carry cases and tubing, can be bought separately, or as replacement parts.
Penis erection rings
We have a range of penis erection rings which can be used to help treat erectile dysfunction or increase penis stimulation, for longer lasting sex. We stock rings in sets, which are made from durable rubber. They are soft and comfortable, with handles for ease of use, as well as being skin coloured in order to blend in. We provide erection rings in a number of different sizes, and it is important that an appropriate size is chosen and that rings are not worn for over 30 minutes at a time. Erection rings should also be removed in the unlikely event that any bruising or discomfort occurs.