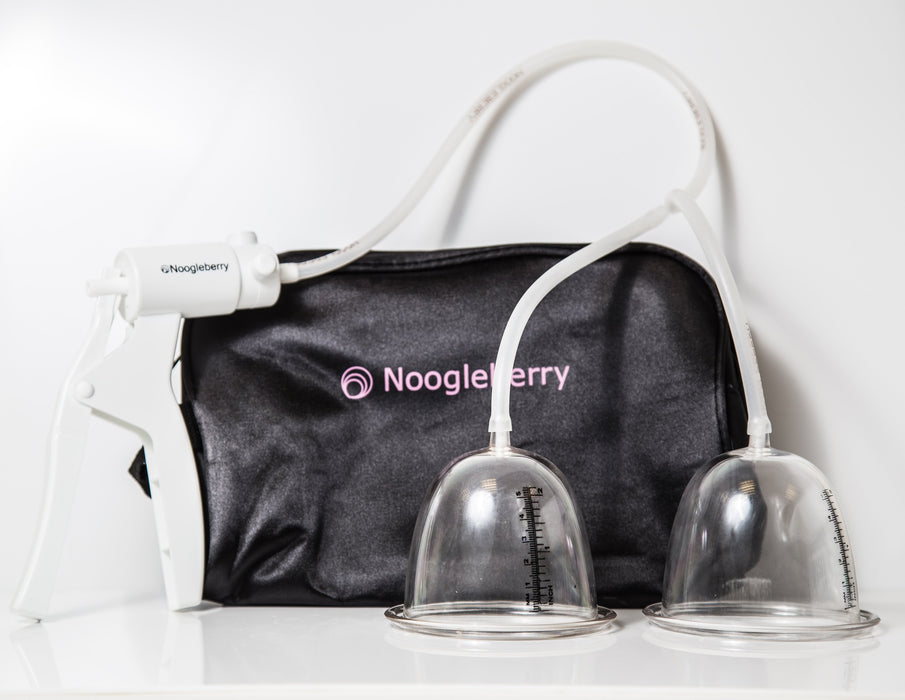 Breast Enlargement System
Sale
Sale
Original price
£51.99
-
Original price
£64.99
Breast Enlargement Pumps are devices, designed to increase the size of breasts by 1-2 cup sizes. The use of Breast Enhancement Pumps is a safe, non-invasive way to help increase your bust size.
Why not add
Upgrade to Gauged Hand Pump: which allows you to control the pressure more whilst using the system.
Soft Cup Rings: Noogleberry soft cup rings are made from high quality medical grade foam and are used optionally with the breast cups to improve the comfort and fit of the breast cups.
We also have our Silicone Cup rings, which now fit all our Breast Cups - Except our XXL cups.
The Airlock kit : offers a way of quickly releasing the hand pump from the vacuum cylinder whilst still maintaining the vacuum and pressure. The kit consists of a high quality in-line connector which has a built in non-return valve. This means that air will flow in both directions until the quick release button is pressed. Then, air is prevented from leaving the cylinder until the airlock is reconnected. The connector takes literally seconds to release. There is a length of tubing attached to both ends of the connector. This will make it easier to move around whilst using the system
Nipple Covers: Our Nipple Covers, stick over the nipple to help to prevent the nipple swelling and enlarging whilst using our breast systems.
Size Guide
| | | |
| --- | --- | --- |
| Cup Size | Inner Cup Diameter | Outer Cup Diameter |
| Small | 8.5cm | 10.5cm |
| Medium | 10cm | 12cm |
| Large | 12cm | 14cm |
| Extra Large | 13cm | 15cm |
| Extra Extra Large | 15cm | 17cm |
| | | |
| --- | --- | --- |
|  Size | Chest Size | Bra Cup Size |
| Small | 26-30 | AA-A |
| Medium | 30-34 | A-C |
| Large | 34-36 | A-C |
| Extra Large | 36-40 | B-D |
| Extra Extra Large | 38 + | D + |
What's included
Noogleberry hand pump.
Soft silicone Y-Connector tubing kit.
2 x Breast Cups 
Carry case.
Instructions Leaflet